We've postponed this trip twice, owing to flare-ups in my illess. but I'm better, and here we are, on the way in on the train. On the platform, as the train arrived, a big fat woman pushed her way by me, knocking me to the ground, almost into the gap. A big strong young man helped me up.
We met Marjorie, Jonathan, and Josie at
Le Zoccole
, on 5th Street and Avenue A. A lovely bistro featuring Venetian food (such as
sardines in saor,
) and a $9.95 brunch, including a bloody mary or mimosa, or fresh juice. I had a dozen oysters, Blue Point and Malpeque from British Columbia (these are the best). They make a great cosmo with Grey Goose Oranj, fresh lime juice, and Grand Marnier.
I haven't seen Josie in over a month. She is more electric, charming, endearing, verbal than ever. She plays creative games at the table, such as each of us pretending to be an animal. Her chicken dance is a riot. We also play see-saw, ferris wheel, and merry-go-round. Andy joined us while Neal was in
minyan
.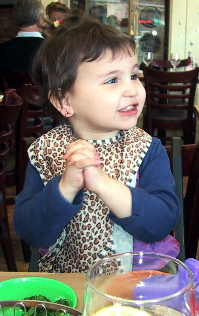 ..
..
..
After lunch, we returned to the apartment. Jonathan and Marjorie went out for a walk, while Josie napped and we sat. When Josie awoke, she was a bit cranky, but quickly got into reading with Carol.
..
For supper, Jonathan and Marjorie bought back some sushi-grade fish from a Japanese market, which Jonathan sliced into sushi. He also fried some large sardines, which were divine--just like Venice.
After supper, Jonathan and Marjorie went out to a movie. As they left, Josie cheerfully trumpeted, "Enjoy the movie." Then, with only a bit of help, she put together an extremely complicated jigsaw puzzle, about 40 pieces. She goes by shapes, rather than the picture. She is much better at it than either Carol or I. She is patient and persistent. She is a fucking genius.
..
Nancy and Joel dropped by late after a fundraiser to say hello. I can't say how very helpful Joel has been to us and to Andy and Neal in the purchase of our apartments. We went back to the hovel. It was a long day, and I had some trouble falling asleep, but once I did, I awoke in the morning feeling rested and much better. I'm peeing a lot this weekend, which is good.
..