MONDAY, MAY 4

We spent the entire day preparing for the weekend to come. We went shopping, picked up stuff, paid bills, made seating plans. Everything is going quite smoothly.

For lunch, we brought in wonderful mid-Eastern delicacies--taboulieh, hummus, baba ganouj, felafel.

We looked over the press packet of the Four Seasons Resorts in Bali where M & J will be honeymooning next week. They are so perfect in every way, so luxurious, so restful, so romantic. They are the most highly rated resorts in the world in all areas--food, ambience, spa, pool, accomodations, service. They are going there as guests of the spa, and Marjorie will write an article about their honeymoon there for her spa column in Fit Magazine. Again, I am teary that my children can live such a wonderful life. They are blessed and are a blessing to us.

When Jonathan got home, we went out to Costco, a huge warehouse that sells mass quantities of all things at very low prices. It was scary.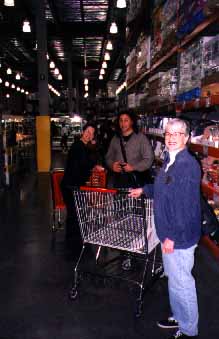 We are not agoraphobic, or at least we thought we weren't, but this place is an agoraphobic's nightmare. Huge carts lumber through wide aisles filled with cases of everything from 50-inch TV's to Grey Poupon (of which we bought one quart).
We had dinner at a wonderful Korean restaurant. There is a hot pot in the middle of your table, which the waiter lights. Then you go to a buffet and select all kinds of raw meat, fish, vegetables, etc. You make soup in a pot in the middle of the table, and you grill the meat and vegetables on the grill surrounding the pot. You make your own sauces, drinks, and dessert (shaved ice, condensed milk, various kinds of beans and black jello (vile). All for $10/person. We had a lot of fun.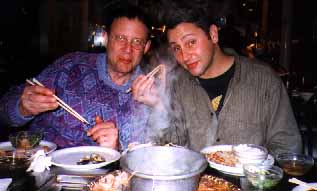 Carol sticks to tofu Itís only a fish!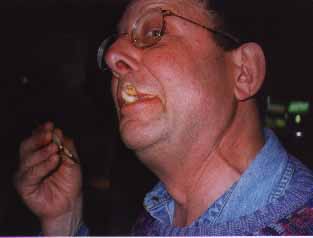 A baby octopus tries to escape!


home